Fiona Leggate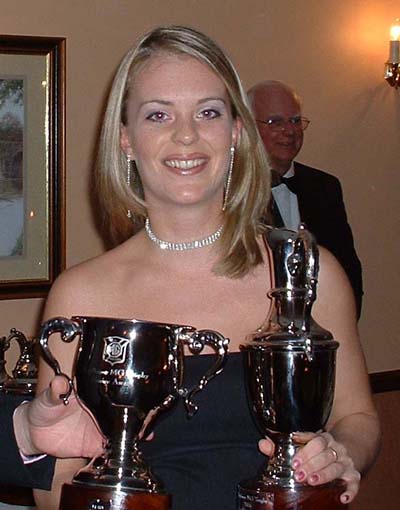 The Facts
Nationality: British
Born: 28th May 1980
Status: Single
Car: Vauxhall Astra Coupe
Championship:
MSA Dunlop British Touring Car Championship / EERC Endurance Racing
2005 Roll of Honour
BTCC - Bio-Ethanol Vauxhall Astra Coupe - 8th independents - 69pts - 16th overall - 12pts - Entered round 18 to 30

Highest placed female in BTCC History - 5th place at Silverstone
Britcar - MG ZR - Silverstone 24hr Race
Production S1 - Lap Record - Brands Hatch
2005 BTCC Fan's Rookie of the Year
2004 Roll of Honour
Britcar - MG ZR Judd - 1st in class 3 - 3rd overall in championship. Fiona had 5 1st in class and 7 fastest laps
MG Trophy - MG ZR - 6th overall with 1 fastest lap at Brands Hatch
Abingdon Trophy Pitstop Race - 1st overall with fastest lap
MG Single Driver Enduro Race - Finished 1st overall with fastest lap
Winner of the MG Car Club Windmill Trophy (fastest lady at Silverstone)
MG Car Club Top Lady Driver
Lincolnshire MG Car Club fastest lady driver
Official Guinness World Record Holder 2004 - most motor races in 24 hours (confirmed)
Cars Driven 2004
MG ZR 190 - Trophy Series - Boston Bowl Sponsored
MG ZR 190 - Trophy Series - PlayTowers Sponsored
Works MG ZR 140 - Lombard Revival Rally
Works MG ZR 210 Judd - BritCar Class 3
Works MG ZR 190 - BritCar Class 4 - 1st ever all girl team in Britcar
Works TVR Tuscan - TVR Challenge
BMW M3 Super Mini - Zolder 24 hrs - 1st ever all girl team in Belcar
Historic MGB (Owner Paul White)
West Surrey Racing MG ZS Sprint Saloon
A bit of History from Fiona
"From an early age I have always taken an interest in sport. At the age of 7 years I started horse riding. Doing various dressage showjumping and cross country jumping. I continued to do this until the age of 15 years when I discovered boy's and also had to start concentrating on my GCSE's. I got the grade's I needed to continue doing my A level's. Although I was not sure what I wanted to do after completing them, I did 1 year of my A level's and then decided that it was not for me and left school.
Motorsport has always been in my blood brought up on the smell of race fuel and the sound of engines, weekends were spent with my father (Malcolm Leggate) during his 19 year's in Saloon Car Racing. Malcolm's success saw him compete in the British Touring Car Championship, which is the highest level of motorsport in the UK. A bond was formed from an early age between me and all things' quick, this had a big influence me and entering motorsport soon became my ultimate goal.
However I decided I needed to broaden my horizons and experience life outside of Lincolnshire. I moved to York to work in a well-known leisure complex. I lived and worked in York for about 3 year's. There I had a fantastic time and met load's of genuinely nice people. After I got a few of my partying years out of my system, I moved back to Lincolnshire to work in the family business.
It was then that I made the decision to enter a competition to win a drive with none other than Gwyndaff Evans the ex British Rally Champion. I won along with about 15 other people (me being the only girl !!!) and had a day at the Phil Price Rally School in Wales. This day was a total eye opener for me, and completely made my mind up that motorsport was for me.
This is where it all started. In January 2003 I decided to start racing saloon cars. For my first season a package was sorted out with MG Sport & Racing.
Don't get me wrong I am still a typical girl. I love having my hair done going for manicures and working out at the gym, however my top priority nowadays is definitely my racing. "